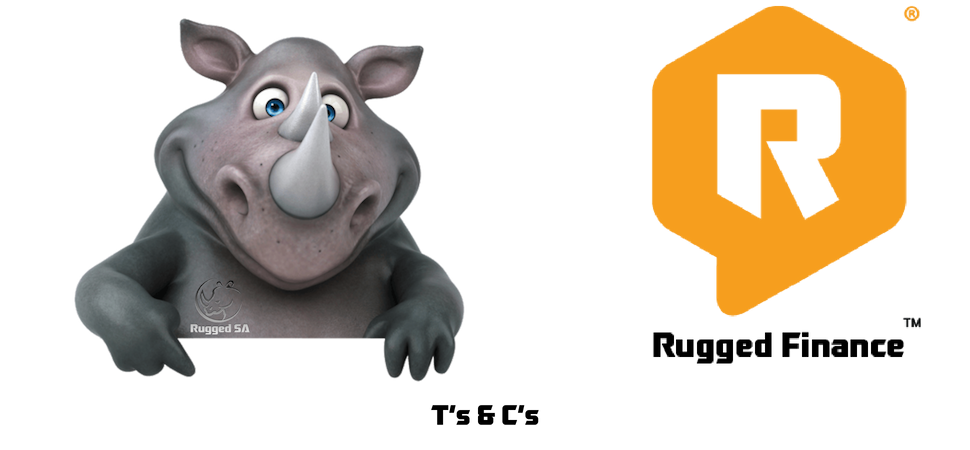 1. Monthly Pricing Estimates

- Rugged Finance™ monthly payment pricing on the website, on each product, and calculated by our Rugged Finance™ Calculator is indicative pricing and will be dependant on each individual's risk profile.
2. Application Approval
- Application approval takes 1 - 5 business days depending on how responsive the applicant is to requests for all necessary details & documents, if needed.
- Application Approval is also dependant on each individual's risk profile.
- Any application may be rejected for risk profile reasons.
- If approved, the applicant will be presented with an offer from his/her credit provider.
- The Rugged Finance™ application will only be completed once the applicant has accepted the offer from his/her credit provider.
3. Collecting/Redeeming your approved finance amount
- Once the applicant has accepted the offer from the Credit provider the amount can be collected/redeemed via Rugged SA to purchase his/her desired product(s).
- To collect/redeem the amount the applicant needs to go to
COLLECT/REDEEM
, click 'Redeem' and follow the steps to release the money to Rugged SA.
- Once the amount has been successfully collected/redeemed the order can then be process by Rugged SA.
- Once an applicant has collected/redeemed the total amount and placed an order with Rugged SA, the normal Rugged SA T's & C's and Warranty & Returns come into effect.
4. Stock Availability
- When applying for Rigged Finance™ available stock cannot always be guaranteed once the application is approved.
- In order to secure stock for 5 business days, the applicant would have to purchase an online order via the website and select 'Rugged Finance™ Application' as the payment method. This will reserve the item (If in stock) fr 5 business days. The reserved product(s) will be released back into stock if the finance application is not completed, approved, and accepted within 5 business days.
- If an item was in stock when the applicant applied for Rugged Finance™ and is not in stock at the time when the approved application was accepted, the item may still be bought on pre-order and follow normal pre-order T's & C's.
5. Financial Service & Credit Provider
- Rugged Finance
™ and/or Rugged SA is not a registered Financial Service Provider and make use of the services of a 3rd party Registered Financial Credit Provider to process applications.
Website Reviews
Facebook Reviews